Hey style lovers, welcome to 2016! Although 2015 was an amazing year for Awed by Monica in so many ways, there are so many things I know I could have done to elevate myself & my brand to the next level. And that is why I am terming 2016 as the year of elevation.
Let's take it up a notch this year in our fashion, makeup, hair and life in general. We are the only ones holding ourselves back, so instead of putting up invisible baeeiers. let's step outside the norm and make 2016 our year.
Here are 5 ways to do this;
***
1. Improve Your Wardrobe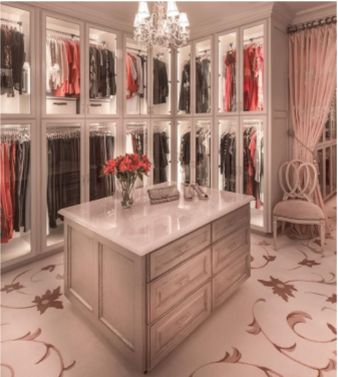 Out with the old and in with the new this year! In a perfect world, we would all like to start fresh and replenish our wardrobes, however for most, that isn't quite realistic.
In 2016, instead of focusing on acquiring many items that we don't even really like but get anyways because they are on sale, let's put our resources into one or two items we love. Get that one classic bag you have always wanted, or that perfect 'pop of color' piece that is sure to transform your outfits. You already have great pieces in your closet so why not get that one piece that you can use to accessorize your wardrobe, and help elevate your style.
2. Fashion Trends to Try in 2016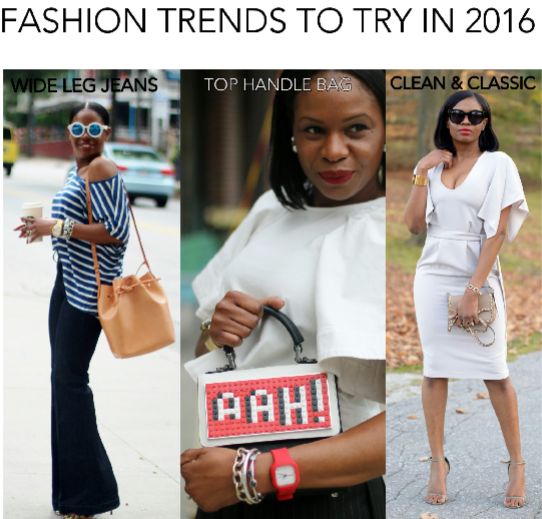 I don't even know where to start with the trends. There are so many fabulous fashion trends that have been predicted for this year. I have picked a few that are sure to elevate your style game in 2016, so take notes.
– Top-handle Bags
Top handle bags are sophisticated, classy and chic. Don't ask why, but your bag truly speaks volumes, so start the year with a bag that tells the world you are ready for successful year.
– Wide-Leg Jeans
Isn't it funny how fashion always does a 360? The hot fashion trend of the 70s is back lovelies so get with it.
Wide leg jeans are going to be major this year, so if you haven't already gotten rid of your old pair, dust them off and bring them out. Unfortunately if you did get rid of your old pair head to any major retailer because they are all selling this must try trend for 2016.
– Clean and Classic Looks
If you want to be successful this year, you can't just play the part, you also have to dress the part. Add clean and classic pieces to your OOTD (Outfit Of The Day). We all have classic pieces in our wardrobe, so you don't even have to run out and start buying pieces to achieve this trend. It's all about how you put things together. Lose the busy look this year and opt for more clean and classic outfits.
3. Enhance Your Hair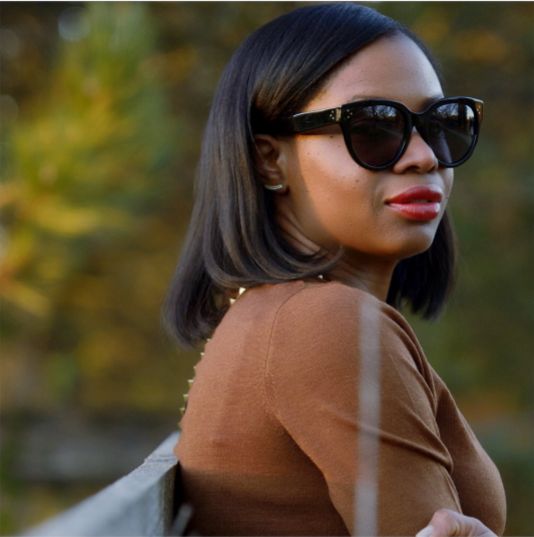 When 2015 started, I was all about natural hair and I am still about natural hair and loving it. However in 2016 I want to encourage you to try something new, switch out your hair damaging weaves and try clip-ins.
They are way better for your hair, and don't break or damage your hair like weaves do. Plus, you can do a hundred and one different styles at the touch of a clip. Wearing clip-ins also allows you to take better care of your own hair. I encourage you wash your hair once a week and wrap your hair at night instead of using a flat iron every night.
4. Makeup that is Sure to Turn Heads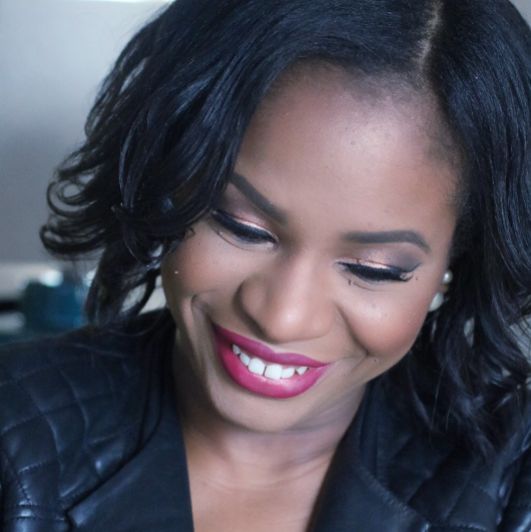 Bold & pronounced makeup is very much a trend right now! At the same time, that clean & flawless face is also major. So what to do? Go with the statement makeup look or the 'I Woke Up Like This' flawless makeup look? The answer is to do all of them this year. Either way you will make heads turn. Contouring and bold eyes will definitely enhance your features and is perfect for going out.
A flawless face is sure to have people questioning your age and wanting what you have. Have fun with makeup this year and don't hesitate to step outside of your makeup comfort zone.
5. Selfie – Self Love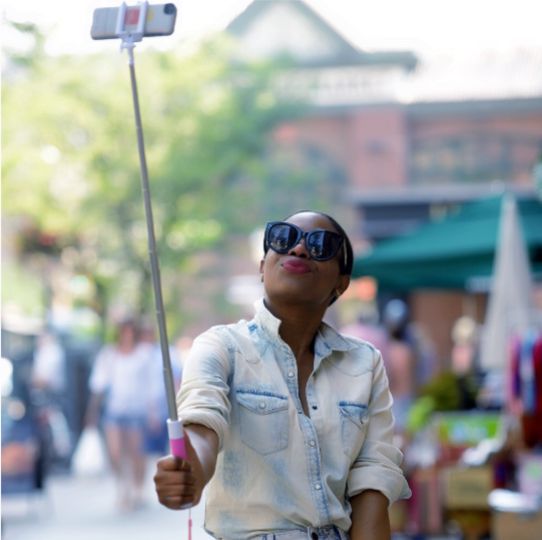 In a world where we have been seeing so much hate this past year, is it really so bad to have a little self-love? We criticize the whole selfie culture and people who take selfies, but what is so wrong with appreciating and showering yourself with some love?
If we took the time to love ourselves a little more, that love for self would definitely transcend to others. 2015 was definitely a blessing but with a little more love in your heart, 2016 will be the biggest success ever. Go ahead take a selfie and love others as you love yourself.
Credi: Awed By Monica